The Change by Teyla Branton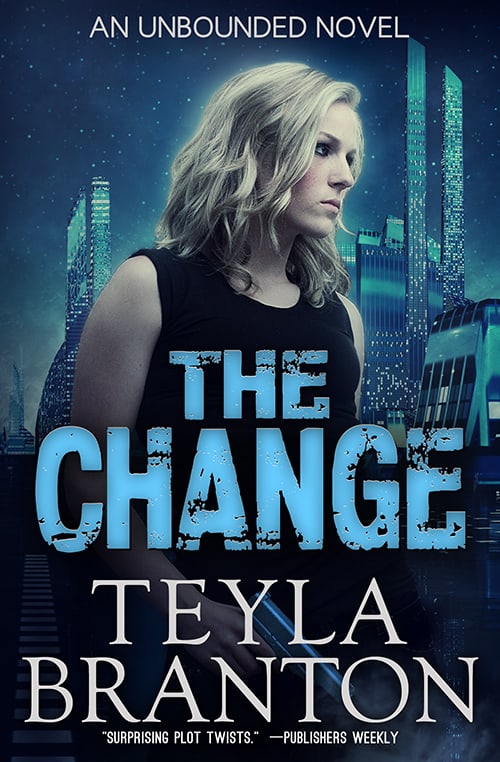 Contemporary romantic dark fantasy
Reg. 4.99 / Sale free
Kindle / Barnes & Noble / iTunes / Google Play / Kobo
Death, Life, or Love—Unbounded Always Play for Keeps
There are only two ways to kill Unbounded, and fire isn't one of them—as law school dropout Erin Radkey learns the hard way. By fluke of a recessive gene, she has become Unbounded, a nearly immortal being with paranormal abilities.  Erin's Change separates her from her loved ones and alters everything she believes to be true. A week earlier she was considering a marriage proposal; now she contemplates the best way to stay alive. Caught in a battle between two Unbounded groups, the Emporium and the Renegades, she is also hunted by a secret mortal society sworn to eradicate the Unbounded gene. Some will stop at nothing to use Erin as one more pawn in a battle that has spanned centuries. Erin's undeniable attraction to Ritter Langton, whose family was massacred by opposing Unbounded two hundred and forty years ago, complicates her choices. There are no second chances. Death, life, or love—Unbounded always play for keeps.
This Very Moment by Rachel Ann Nunes 
Christian Romance (new cover!)
Reg. 3.99 / Sale .99
Kindle / Barnes & Noble / iTunes / Google Play /Kobo
A Compelling Story of Heartbreaking Loss, Inspiring Faith, and a Newfound Love Strong Enough to Heal All Wounds.
Bill Dubrey is a sought-after plastic surgeon for LA's prestigious and wealthy, and an equally sought-after bachelor. On the surface it appears he has it all—money, respect, and fame. Yet behind his aloof exterior lurks a tragic past that prevents him from finding lasting happiness.  All that changes on the day Kylee Stewart reenters his life. She alone knows Bill's secret agony, and she is determined to help him face his past. During the years they've been apart, Kylee's own life has been far from easy, but unlike Bill, she has turned to God in her need, finding a faith to which she desperately clings.  The tentative friendship they begin has Bill rethinking his stark future, yet he keeps his heart in check—afraid to commit, afraid to lose again. During Kylee's darkest moment, when she needs him most, will he be there for her?
Behind the Mask by Elizabeth D. Michael (AKA Anita Stansfield) (Horstberg Saga #1)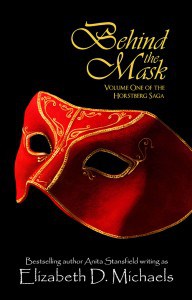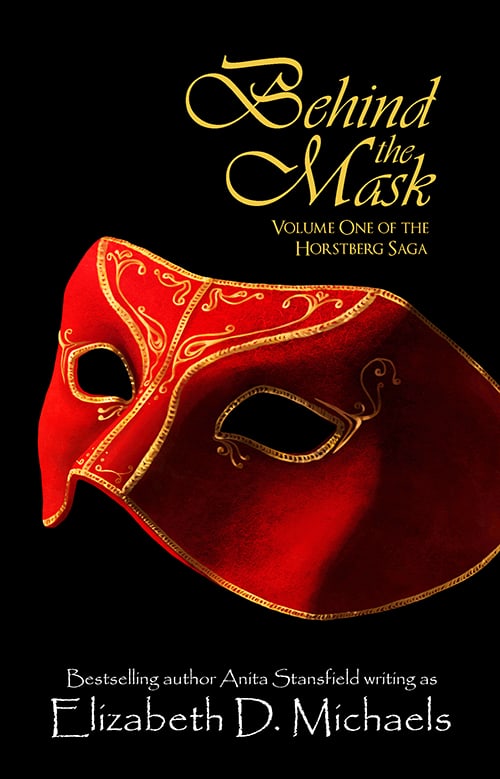 Historical Romance (set near Regency period but not a typical Regency)
Reg. 5.99 / Sale .99
Kindle / Barnes & Noble / iTunes / Google Play / Kobo
When You're Hiding For Your Life, What Do You Live For?
Abbi has the gift of dreams. But her uncanny ability to see glimpses of the future has no apparent purpose or meaning until a dream leads her to a man on the brink of despair and destruction. Cameron is a man without a name and without a country, framed for a crime he didn't commit. Long ago forced into exile and believed dead, the passing of years have defaced him of all hope. The country of Horstberg suffers beneath the weight of tyranny, and only Cameron holds the secret that could see her ruler undone and restore the people to peace and prosperity. While revolution brews and whispers of treason threaten all that is dear to Abbi, she remains unaware of her own ability to answer a nation's prayers. Trusting only her heart and the power of her dreams, Abbi gives all that she has to lead Cameron back into a civilized world, where love is real and freedom comes only in facing what hides behind the mask.
A Matter of Honor (AKA Anita Stansfield) (Horstberg Saga #2)
Historical Romance (set near Regency period but not a typical Regency)
Reg. 5.99 / Sale .99
Kindle / Barnes & Noble / iTunes / Google Play / Kobo
When Honor Means More Than Anything To A Man, Can He Sacrifice His Honor For Love?
Captain Lance Dukerk has no doubt that the only woman he ever loved married the right man—even though that man wasn't him. Yet he longs to have that kind of love in his life and is growing weary of being known as the most eligible bachelor in Horstberg's military force. When poverty-stricken Nadine Rader arrives at Castle Horstberg, insisting that her young daughter is the legitimate child of the duke, it becomes increasingly evident that the deceased ruler Nikolaus du Woernig left a torrent of disillusionment and heartache in his wake. Inexplicably drawn to Nadine, Lance takes personal charge of seeing that her needs are met as she attempts to piece her life back together. Their mutual attraction quickly merges into something profound, until Nadine discovers that Lance's connections to Nikolaus go far deeper than she'd ever imagined, and her budding trust in Lance shatters. Nadine's life becomes more troubling as women who fit her description are brutally murdered, and neither she nor Lance are prepared to face startling evidence that widens the chasm of mistrust between them. While Nadine fights to stay alive, Lance relentlessly tracks the monster responsible for these horrendous crimes, hoping he'll be in time to protect the one woman he knows he can never live without.
The Superstitious Romance by Anastasia Alexander
Contemporary Romance (sweet)
Reg. 2.99 / Sale free and .99
Kindle (99 cents) / Barnes & Noble (99 cents) / iTunes (free) / Google Play (free) / Kobo (free)
Can Love Survive Friday the 13th?
Friday the 13th has always been unlucky for history professor Camille Britain, and this one doesn't seem any different. In an effort to escape her failed marriage, Camille is renting a cabin in beautiful Island Park, Idaho, where she meets wildlife photographer Jackson Armstrong, who scoffs at her superstitious ways and infuriates her with his offers of help. Camille doesn't need another man—not even one as compelling and attractive as Jackson. Especially when he seems hung up on another woman. And yet Camille can't deny the passion between them or the way Jackson makes her feel. This Friday the 13th upsets both their worlds by forcing Camille and Jackson to see things about themselves, their families, and each other that might—with a little help—change them forever. Maybe this time superstition is on their side. The Superstitious Romance is a story about a strong woman who feels weak, a man who doubts himself, and a powerful love that changes everything.